[twocol_one]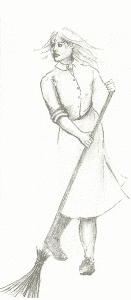 [/twocol_one] [twocol_one_last]
There bellows a wind
around the turrets
of the mind's house,
ripping under gutters,
sweeping under eaves,
leaving no residue.
Clean, chaste
as the sweet wind,
stands she exalted.
Prudently swiping at corners
to eliminate even
the shadow of contamination
on her brother's name.
In good time,
in due time,
the world will be
swept clean
and her father's house
will sparkle.
[/twocol_one_last]