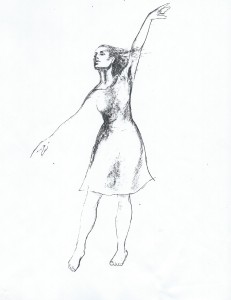 Dance for me little girl.
Dance your dance
and show the gods
why you dance.
In the garden I see you,
toes dug into the earth,
head lifted to catch
the glint of the sun
filtering through the leaves.
You nod in assent to breezes
whispering your name.
Your lips move in intonation
of the om which separates you,
momentarily.
You pirouette perfectly,
swayed by forces
caressing you to homage
of all who you are.
I long to kneel
before the image of you.
At one with your own music,
when your arms grace sweepingly
in the silent moment,
and you take all that is yours
and pray the garden
into a sanctuary.
Art by Claudia Hallissey