(For My  Forever Friend-Cheryl)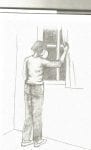 Morning breaks
the long fast.
In the dailyness
there is beauty.
In the neat kitchen,
in the morning silent,
except for the brewing
of the fragrant coffee
in the silver pot,
in the glancing
out the dark window,
to see the neighbors rising.
In the neatness
of physical life
where the morning
breaks the day
and night binds it,
it is beautiful and I will cherish
this portion of earth life forever.
January 8, 1990
Art by Claudia Hallissey