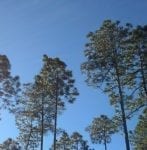 (When I published the journal entry called Hidden Lessons,  I was nudged to go through my files because I thought there might be a poem I had forgotten about.  After much searching I found it and thought I would follow the Lessons essay with what I had written March 08, 1998.  It explains to me why I was so moved and grateful to the young woman who stopped that day in September in the year 2000.)

My God Watches Me

Over and over I create
and recreate situations and wars
with symbolic enemies
but sometimes not.
I must watch my responses,
my actions and motives
lest my God think less of me.
So I spare my God further annoyance
by monitoring my Self.
The situations and ordeals
are best kept in mind.
I articulate my position
to establish myself several times
in the course of a day.
The wars and arguments
are pacified,  but only after words
become too tiresome to continue.
Peace becomes the only option.
I work toward perfection
and a hard work it is as anyone
who knows me would agree.
It is necessary though,  you see,
for my God watches me.
I watch-dog my actions
and harness my tongue and change
hurtful thoughts with labored caring.
It means I reconsider
my earnest evaluations of mine enemies
and present the other cheek.
I pretend I prepare myself for sainthood
while I breathe the rarefied air
of my benign earth.
And watch my Self
as my God watches me.
Not so easy to do this
monumental work of sanctification.
Of my internal warts and grievous errors,
I am deeply conscious.
But perhaps I prevent them
from penetrating my soul
as long as I keep close the knowledge
that my God watches me.
Photo by Veronica
click on photo to see icicles on pine trees