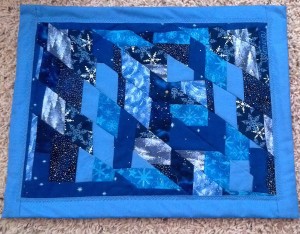 Can we go to the lady who likes blue cloths, the young one asked.   And I was taken by surprise as to why he wanted to go.   I asked him why and he looked at me and said because she know-ed things and I want to ask her some questions about stuffs.   And I asked him what kind of questions.
And he looked at me and said, you know, you know.   But I don't I said and waited.   It is always good to wait.   But there was nothing coming so I asked again why?   And he said that she knows things and she like the blue cloths and those are special.   Why are they special, I asked.   And he said becauuuuusseeee. . . they just are!  Can we go?
And I said get your things.   He was quiet while we were getting there but when we came to the shop he sat still for a minute.   You not mind if we just talk about private things, he asked.   I said,  it was all right with me.   May I listen?   I want you to he said.
We were greeted warmly by the lady of blue cloths and the younger wrapped his arms around her waist.   Good to see you again, she said.   I saw-ed you last night, he said, and you said it was always good to 'member where you come from.  I think hard all night and I 'member , he said.  I 'member.   And I 'membered you because you teach-ed me about not being 'fraid of stuffs.  And I know-ed what you said and I know-ed where you were with the blue cloths.  You 'member where you come from?
Yes,  she said,  I do.   It is a place of great feeling, love that is bigger than anything we know.  It is like a big ocean of love spilling over us and there is nothing to be afraid of.  We can touch this love with our hands and hold it in our arms.   And it will hug us back.   What do you remember?
That is what I 'member,  he said.   And that is why I not 'fraid.   I 'membered and then forgot and I know-ed you would know.   Can I come back and ask again what I forget?  Always, she said,  always come back.
He reached for my hand and I nodded to her.   I not 'fraid now I 'member.   We come wit' love and go to love, too.   Yessssss,  I said and squeezed his hand.
click on the blue cloth to magnify