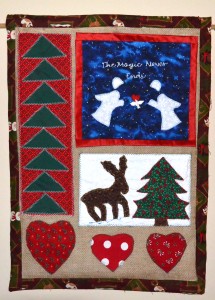 Sometimes it seems we do a thing and wonder afterwards why.   Well,  to me it is still a puzzlement as to why I ordered a bolt, of all things,  a bolt of burlap on the eve of my 83rd birthday.   In a few days there is a birthday and with a body balking,  I am wondering the purpose of my purchase.   Well,  the burlap is here and it was a good price with my 50 percent coupon off attached and I am well pleased.   In fact,  the magic never ends.
I worked on a wall quilt,  in fact finished one and almost done with the other and a great rightness was in the working.   In the process of doing it,  there is a smooth transition from my head to my hands and I am all of a piece.   And a peace.  When it was done,  I marveled at the marriage of the wedding silks and army boots.   It was a wonderful feeling as if the trek through the bulrushes was worth the long journey.
I wanted to share this part of what I do with the constant process of enabling my breathing and keeping on.   It is a journey of wonder and should I be able to leave anything to my progeny or those who have shared my life,  it is that it is not only a wonder but a privilege we are given.   We  must guard it carefully and to work to  the utmost,  to  do our highest and best effort and vision.  And should we choose to chase it,  we will find truly that the magic never ends.