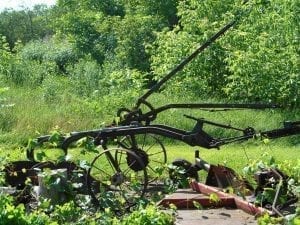 The Plough Sits In The Field
There was a time,
however brief,
when the unthinkable
was avoided at all costs
and the unworkable
was left by the side of the road.
Nowhere could we say
that the heart was not involved;
but lost on us all
were reasons.
Now we wait.
The plough sits in the field
and the mountains
of caked thought grows higher.
Little did we know
Spirit would have us soar
had we been open and allowed
life to be felt, to be woven within us.
One does not wallow
in shales of misery,
coarsely chopped and pitted.
It is never too late,
for the vineyards wait
for the laborers
and they will be rewarded.
The coin of the day
will be the heart's desires.
And angels will spur us on
to make up for lost time.
photo by Kathy Qualiana
(from The Farm)