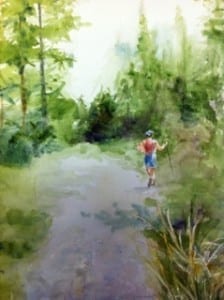 A Teacher Spoke. . . . you spend time patching up the grill work only to find that the holes are supposed to be there for that is the way it was designed.   That is where it is you are.   That is where we have come and there is no turning back but straight on  through.  You wondered whether there would be confirmation at all that the church has taught and you would be reborn.  You did not stop at reborn.   People do.   That is a way station.  But you clambered aboard the train and got off at the next stop and the next and the next.   And at every stop there was a something else; another something.  But we did not stop you.   We saw the integration taking place and we did not stop you.   We saw the pain involved and we did not stop you.   We did not call a halt.  You did not say, enough already.   Well,  here we are now,  not at the end of the road but at another way station.   What have you found?  Another place of unrest.  You  think but what is there that recommends life to me?   And we have to answer,  only you.   You have to see within yourself your reason for coming,  have to care enough to burden yourself and have to see the broader picture carrying down the road  a host of generations.
(May, 1986)
The Road Hardly Ever Chosen
Philosophies are born to work
but only after the heart
decides that what has been
the dailyness is no longer tolerable.
The war begins somewhere
for the man in the street.
A rock is thrown
and mayhem results.
For one like me,
darkness was never preferable
but the Comforter was alerted
and chaos was averted,
allowing a life's drama to unfold.
Wretched, gulping gasps
spilled life's dogmas
over enameled surfaces
to display the rot
of the untenable, unable.
The mind's search for the acceptable,
the palatable, began.
One does not assume
another man's efforts
and be able to claim them.
Like a stretched out garment,
the fit is always questionable
It is not to be.
The garment one wears comfortably
as a final one must be
constructed in confrontation
of life's ironies and indignities.
To insult the psyche no more,
it is not by error
is it called the hero's journey.
Fortuitous it is when one chooses
the road hardly ever chosen.
June 14, 2014
art by Claudia Hallissey