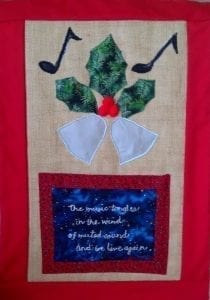 the music tangles
in the wind
of muted sound
and we live again
When our son became seriously ill and I could not find holiday cards that spoke to what my heart carried,   I started to make Christmas cards.   The first card was made with construction paper  and carried a poem of mine that I had a local printing company print.   That Christmas I learned of many who were carrying heavy burdens who appreciated the card.  One man said that he told his wife Eleanor, we will frame this and I will live!   He had just recovered from a heart attack.   He said I will be reminded every day and the card in a frame on his dresser was his reminder.  We do not know when we make the effort to do a something how far the ripples will reach.
 This wall quilt is a fabric version of a Christmas card I made when we as a family faced an unthinkable future.   But we learned many things and were gifted with joys never thought possible.  To begin to do with one's hands and mind is a gift of unmeasurable dimensions.
 One of the most important lessons we can teach our young is to begin the task, whatever it is that one desires.   Even when we don't know how to do something, beginning will be the largest hurdle to overcome.   When we begin,  we will be shown how.   In just measure  commensurate with our abilities,  we will be taught.   And this is how we learn.  This is how we accomplish what it is that is our heart's desire.   The materials may not be the best,  but whatever we have on hand is what we use.   Eventually, ways will be shown and events conspire to place within our hands what will not only be useful, but necessary.   But we must begin.
 Not everyone will be an artist, but we can do what is within our capacity.   Our technologies have placed lessons on television, but we find ourselves judging what we do with professionals who have spent lifetimes doing.   We can express ourselves within our means and do something we have not done before.   Our efforts at what we are able to do are commendable.   And these efforts are noted.   They allow the god within to cheer us on and say now we can do this and this.   It will be with effort and care and we will do better and better.   And one day we will call ourselves primitive artists but more importantly we will be able to take another step in conquering the fear that we cannot do anything.