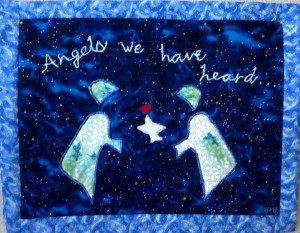 Angels We Have Heard
He came up quietly and stood shifting his weight from one foot to the other. I put my book down and waited for him to speak. Can we go, he asked, to see the lady with the blue cloths? Is there a reason you want to go, I asked. And he said I need answer to question.
Okay, I said, we can do that. I can be ready in a few minutes. And he ran to get himself together and we were good to go. We chattered about many things on the way to the place with the lady with the blue cloths. There was no mention of the things that needed answers. I asked if I could be with him while he talked to her. Always, he said, he wanted me to be part of the answers. I not like secrets, he said, just regular stuffs that he had been thinking about.
So we entered the place and were welcomed with hugs. He said he needed to ask some things and she was the one who would be able to answer him. We went to a small table where she did her work and she made us comfortable. Ask me what you need to know, she said. And the young one looked at her and said in a firm voice, I don't want to forget where I come from, he said, and I afraid I won't 'member and how can I 'member when my friends say it is baby stuff I talk about. Yet my friends who not seen, are part of that other place. I not want to forget them 'cause they say things that are 'portant. How can I 'member when here friends don't talk?
The hardest part, she said, is for you to want to remember. You must do the remembering and see how everything connects. It will be hard for you and they will make fun of you. But the here friends are afraid to be different. And only when you remember from where you have come can you make life better and make a difference. You may not see the difference you make, but from another place, it is a big difference. It hurts when they laugh and you wonder especially if it is important. But it is, it is. And good friends will want to be with you. Because they know you are special. She had put her hand over his on the table and he curled his fingers around hers.
He stood up and said, I 'member. You help me to 'member. Yes, she said, you will. You will. He took my hand and we thanked her. She nodded and whispered it begins and I bless.