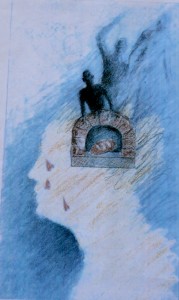 The Best Of All Worlds
It was said before
in this best of all possible worlds. . .
that we will surely miss this.
It has to do
with the sweet ways of greeting
to demonstrate love and
of mostly handling the common place.
There are those worlds
of which we speak
where frame of mind cannot compare
with our range of emotions.
How like us that is. . . .
We boast of our capacity to love
and honor each other through all life. . .
and then raise arms in combat.
Why I ask does it pain me so
to leave it all behind
when emotion has blinded me
and handicapped you
from peacefully coexisting?
Too much, I think,
my heart needs a quiet time.
One to stand (beside) aside,
to heal my heart and simply Be. . .
in the next of all possible worlds.
Art by Claudia Hallissey