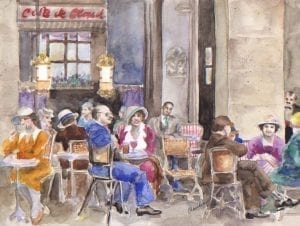 Moments
Our moments were tender,
those moments over coffee
and whatever cheese Danish
I could find. . . .
We loved those times,
free wheeling we said,
as if cares of the day
had faded from our lives. . . .
No need ever to apologize
for  moments stolen
from life's busy encounters.
They were the most important.
They cemented our past
into a foundation
our beloveds counted on
to build their futures. . .
To have run away would have
left orphans in our wake.
We laughed and reveled in the little time
as we pretended no ties other than
when we had our last coffee
and knew our let's pretend was. . . .pretend.
Painting by Claudia Hallissey