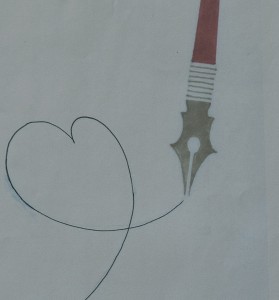 An Ever Fixed Mark
What can be written
that has not been written before?
What are the new voices saying
to old hearts turning mellow?
Not much one hears
is different except
the ever fixed mark
which shrouds a piece of truth
and shows its consistency.
It is exactly that. . .
an ever fixed mark as the old salt said.
We guide our actions
and think our thoughts
in its direction.
Heaven fixed the mark.
Upon this tablet it is written
that one must learn
to love oneself primarily,  else
the same imperfect thoughts and actions
drive a wedge clearly through us. . . . .
But first adhere;  the mark does not fail when
it is etched in cursive splendor upon the heart.
Artwork by Claudia Hallissey