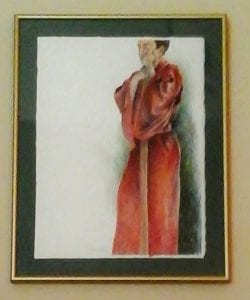 Even as a child I was happy to see the long, hot summer gone.  With the Labor Day holiday over, for me the new year begins.  The start of school again was exciting  and I could hardly contain my enthusiasm for the smell of new tablets, new crayons and pencils.  This excitement with learning has been part of who I am.  And even now heading toward the culmination of a full life, the desire to learn something new every day still propels me.  I now approach the autumn days and the long evenings of winter with an attitude of gratitude.  As long as we are able,  if we see work to be done,  we do it.  It is with that attitude, I submit. . . .
With Gratitude
Let me take this day
and fill it
to the brim
with gratitude.
Let all my actions
praise the efforts
to be noble,
to be kind,
to be good;
let it all be seen
in the lives I meet.
Let me be the purpose
for this day,
to be recreated
for the work to be done
for those
who still live in the shadows.
Painting by Claudia Hallissey