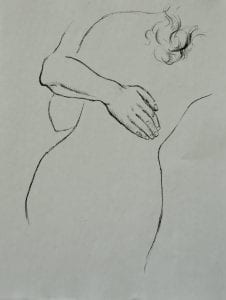 A Good Friend. . . .
There is a dark side to everyone's personality, especially the sensitive one.  This dark side often  rides the sensitive so heavily that others find them burdensome.  Yet needful because being sensitive,  they are often  also understanding and responsible.  When one needs a someone,  they are always there, to  make the poultices,  change the beds and do the laundry.  Not to wring their hands and whine that they do not know what to do.
And that is the difference.  The dark side of the personality has learned how to make a situation better because they have had to learn through their own lives how to make themselves feel better.  They know what makes an other feel good.
It is hard to live with such a person but harder still to live with one who wrings their hands and runs away.  There is nothing within such a one that makes the connection between their soul and the other who is hurting.
A Good Friend
You stayed the night
while I lumbered my body
through a partition closing me from life.
While I fought
through a sea of memories
holding me hostage
to long and lonely years.
You saw me through
eyes of tears reflecting  the hardness
mine needed to smelt with coals
being fired in a heart of no use.
But you stayed, close as my skin
and had you pulled away
I would have understood.
You stalk me yet and I stand.
My eyes have shed their steel casings,
now ground as dust beneath my heel.
I look inward to softer places
and find the world not so hard.
You tell me you need to stay close
because you wish to claim
my strength if only by association,
but I ask,
of what heavenly use is a soft shell crab?
art by Claudia Hallissey