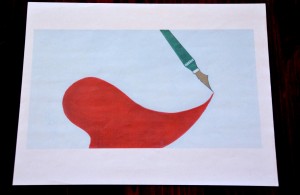 She Says, He Says. . . .
She says,
speak to me!
He says,
I have nothing to say. . . .
She says,
you can say I love you. . . .
He says,
I look out for you, don't I,
and help others every chance I can?
And she says,
and everyone loves you but
what good to save the world when
your own house is falling apart?
We were told that, were we not?
Words mean a lot.
It is all we have
that connects us, one to the other.
He says,
no one ever said the words
out loud to me and I grew up.
So how important can they be?
And she says,
don't I count?  Your heart is heavy like a rock.
Only by seeing what the past has done to us
can we change its direction.  And I see
your life long and worth the change.
But change direction
only if you see your Self
deserving of this chance.
I say work it!
He says,
you think I will see a difference?
And she says, 
you may really be surprised.  Really be surprised.
Art by
Claudia Hallissey