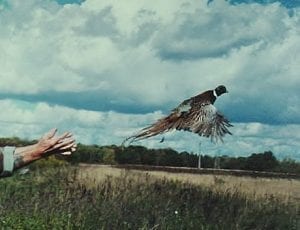 Taking Flight
There was a year I learned that creatures,  no matter the species, have memory.   Birds I found  are not forgetful.  I had 2 mourning doves in my hanging planter outside the back door.   They started to nest that past week.   The planter was hanging just on the rim of the patio cover and when it started to sleet, I went out and told Maudie,  (I had named them Maudie and Jack) that I was going to hang the basket closer to the house,  just outside the kitchen window for protection.  So I moved her in the hanging planter.   She did not fly away nor did she get excited.
I did what I told her I was going to do and she trusted that I would.   Maudie and Jack were seemingly a devoted couple.   They took turns sitting on the two eggs.   They had nested many years  in the evergreen  outside the back door.   And when it died I removed it and the doves  went to the tallest evergreen in the backyard.  They stayed around and no doubt their progeny also.
I was privileged to observe a behavior repeated in the best of families.   Maudie sat patiently on her eggs.  I saw Jack flying in and out, handily at times,  but often without a look back.  He was ever nearby. And when the eggs hatched,  Maudie and Jack spelled each other and flew back and forth with food.   I was privy to    lessons in love, in diplomacy,  in mothering and a lesson in trust.  The trust was a gift for me.
Maudie did this for me.   I then found myself saying to her over and over as she tried to edge them out of the nest, 'don't let them get too comfortable, Maudie ,  or they will never know they can fly.'  Jack was patient but only for awhile.   When the procedure was prolonged,   Jack flew the coop.   I never saw him again.
Maudie finally, gently pushed the fledges out of the nest.   The first one flew down to the steps and courageously flew  into the maples.   The other, a timid spirit, was pushed out and landed on his feet on the bottom step.   Maudie stayed and watched from the iron clothes pole.   The little one did not budge.   I opened the door and told Maudie that I would pick him up and get him going.   I picked up this trembling heart and whispered my goodbye and god's speed and shot him forward and his wings opened to prove to himself that he could fly.   And he did and Maudie followed into the maples.   It was an enormous  gift and I offered my gratitude to those invisible who made it all possible.
A grandson could not believe that the dove actually allowed me to move her.  I told her I said,  what I was going to do and she trusted me. And I knew she trusted me,  knew it.   I had been steadfast with her in the yard for a long time.  However long is in a bird's life.  And she saw me every day through the kitchen window and knew I was there.  The photo of the pheasant taking flight was taken by my beloved in law sister Diane when my brother gave flight to a bird that had been wounded and they nursed back to health.  Here again, it was a matter of trust.  It is an emotion and trait that we share with other beings in our world.   It is not to be taken lightly.  It often is a matter of Life.
photo by Diane Rybacki