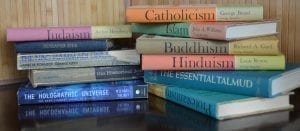 I am not certain when I started to think in an organized way that something would be demanded of me by these sons of ours and I could not be found inadequate.  So even though I had been a serious reader of books,  a change in habits arose and I began my Independent Study Program.  I was the parent on premises and there was no family about to rush to aid an overwhelmed mother nor sitter monies for personal pursuits such as further classes.    The Public Library though was free and we four rushed to fill our box twice every week.  Over the years gleaned were the dollars that paid for books to fill shelves built of bricks and boards.  And not to my surprise,  much was demanded over the years but much also was Given.
Looking back now,  with memory honed sharply over time,  staying with me were those books that I found not only fed my needs but also pointed me in directions I never thought possible.  In going back over journals I find coming to mind poetry that showed where I was in my thinking and in my journey.  To get to this time in my life has been a knock down fight with the heavens with the Teachers as tired as the Student.  There are as many ways to get to the finalizing of a life as there are people.  There never was just one way,  but Life being gracious from beginning to end,  offers many subjective avenues to appeal to any soul in search of its own eternal why.  Always parallel to the factual lab Sciences.  There is this place we come to in this search that says an 'of course' to what you never thought you could believe.  But only for this time and this classroom.  For another world there will be further study demanded because the present conclusions will be insufficient.  It is called life everlasting.
Not Quite What We Are Led To Believe
Let them argue
their own arguments
amongst themselves,
the gods and the muses.
Let the kings
parry the knights
in kingly fashion
and let the All
carve out directives
on tablets of clouds.
It is enough to contend with
disasters in natural form.
It is enough to persuade
the hurricane to seek
another spot other than
where I am.
It is enough
to fight the daily fight
and to chisel out
the monster
plaguing my viscera.
It is enough.
But I, pouring forth
with a tentative courage
and confirmed cowardice,
grant to each equal time
and give to Heaven itself,
a measure of my peace.
poem in early 1983
photo by John Hallissey