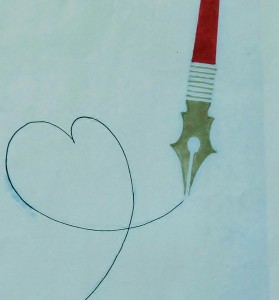 A Matter Of Heart. . .
The terminal was unbearably hot.  The crowd was gathered ready to embark the train for points East.  The luggage crowded the children who were crowding the legs of the adults.  Handbags swayed menacingly as little children strayed too close.  It was a hot and sweaty atmosphere and not at all pleasant.  The air conditioning would be overworked long into the night, even as the number of people decreased.
The wait was interrupted by the loudspeaker intoning that begging our pardons of course, there would be a slight delay in embarking because the train had not arrived.  But as soon as it was in the depot and unloaded, we would be granted status as passengers.
The groans were echoed throughout the caverns of the terminal tracks and it was one groan.
In front of me a relatively young man, perhaps nearing forty and dressed in shorts, polo shirt and typical running shoes, stood by the ruby velvet rope, the only sign of elegance in a scene showing none.  Until that moment.
A young boy child, estimated to be six or so, came to the young man and leaned against him.  This was a husky one, but possibly was younger that what I thought.  He looked though to be in training for some contact sport.
The young man bent down and in one gesture, obviously long practiced, gathered the child up.  I watched in amazement, fully expecting to hear, 'stand on your own two feet, you're big enough!'
But what I saw was an act of love, obviously also not universal, because it was not what I expected.
I saw the child put his arms around the young man's neck with such sureness that I knew it too was long practiced.  And the young man buried his face in the neck of the child and pressed his lips close to the child's ear.  The look on the older face I could see for he was not 2 full feet away.  And the look was one of unadulterated love, the purest measure of devotion.
As the larger arms held the child effortlessly, I heard the Teacher's voice saying again, 'only a father can make a son but other men make brothers just like themselves.'
And I saw what for these two was evident.  At some point in time in the older man's history, however far back each man's history goes, this father had known a father's love and had been a son.
And whether or not this young boy-child would choose to father, he could, because he was truly a son.
And this particular element, so often divisive in the lives of men, was forever in these two, reconciled.  It was lovingly demonstrated.  And no word passed between them.
artwork by Claudia Hallissey