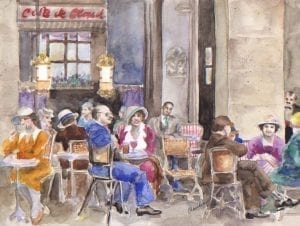 Oftentimes the greater picture is chosen to be forgotten because it is necessary to have the script as authentic as possible.  If knowledge were part of the picture, chances for the lessons to be taught would be hampered.  So love is as powerful as the anguish and the angst  in their teaching the veracity of life.  How to let go of the feelings to prevent the corrosion of spirit when the need is no longer present?  By love of who you are and what you chose to be part of.  The lessons may be hidden at the moment, but in time you will know how quite wonderful you are.  To have affirmed the life giving properties so others may live.
Old Friends Breaking Bread. . .
What's the harm in it?
one asks, sitting
in the sun, wind lifting
tired hair.
She answers, no harm at all,
with two old friends
breaking bread.
It is good to recall
once fresh dreams.
Everything gained they agree.
Lives lived splendidly
according to script.
Lives mortgaged knowingly
so the Other could know
their moment in the sun.
They needed to learn
they were worthy.
For us it seemed
we chose it to be
a time out for us.
We raise our cups
in tribute to the great plan
enfolding us, evolution.
Choosing to make this difference.
art by Claudia Hallissey