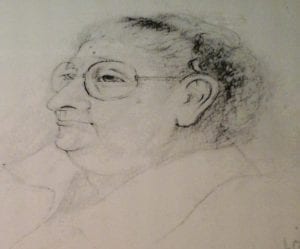 (It was after a family wedding that I was getting thank yous off to everyone.  I kept letters to those I wrote so I would not forget anyone.  In rereading journals I came across this one to my mother,  Jenny,  that I would like to share.  It spoke my heart and on this Mother's Day it speaks to all mothers who in fact parent whether they gave birth or not.  Parenting is a matter of heart.  I have edited due to space.)
Dear Mother,  My thank you is felt from my heart.  It is my heart that speaks and my arms that reach to you and say good job, well done.  We come full circle at some point and the important thing is that we stayed the course to finish it up.  Our thanks along the way include all who helped become who we are.  And I love who I am right now.  I love me because I love from where I came.  I came from you.
I have often maligned from what it is I came from because I have known it seems nothing but hard work.  My hard work has produced three fine sons and with courage took the hand of one and walked him out of this earth when my instinct was to wrap him in my arms and keep him here.  I helped shore up his two brothers whose worlds were falling apart from hurt.
I have created a home where people love to come and do not want to leave.  I have been testy and submissive, argumentative  and assertive and unlovable.  But kept on loving.  I can see what I am because I see from where I come.  From you.  Of you,  of my brothers and their wives, all sisters.  All of you open your arms to me and I find I can walk right into your hearts.  No doors are closed, no secrets are held and we speak.
You are a testament in courage.  You are the good news in generosity and sharing and love.  I don't know who could have done what you have so well.  You have created memories for so many that the heavens will declare you lord of memories.  You have been safekeeping them for all of us.  You are a lady worth the knowing and a mother worth the praise.
We pushed against you and made it hard for you.  But we had to strengthen ourselves.  Life demanded much from you and we knew it would be hard for us.  You did not abandon and because you did not, we stayed the course.  We too crumble and cry and because you did what was necessary,  we do too.
It is of good stock I come.  It is of earth and skies that are deep, horizons that stretch farther than eyes can see.  People who walk among each other and heal one another like balm on a wound.  It is love that bends down to touch the head of a child when the back finds it painful to bend.  It is the arthritic hand that touches the cheek of the fragile.  It is love in a gruff voice that shouts and sisters who wrap their arms around each and say 'I know.'  It is family and it is my heritage and you gave it to me though orphan you were.
You imbedded lessons in my heart and taught us all well.  I thank you.  No one could have lived it better than you did with what was yours.  I went home this weekend and found the likes of me everywhere.  It is a good feeling.  I am privileged.  I have family.  And looking at you I am proud.  I am you.  Thank you for having me.  I love you.    Your daughter,
artwork by
Claudia Hallissey