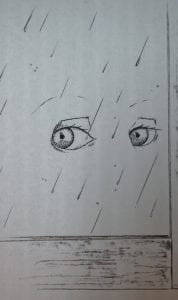 Pardon Me While I Cry. . .
My oldest brother Edward was 20 years old on December 7, 1941 and I was 10.  I will never forget my mother's tears and lamentations when word came over the radio that Pearl Harbor was under attack.   'Matko Bosko'  (mother of god) she wailed.   Edward was in the Navy at Pearl Harbor.  We were a large family of eight siblings and concerning us was the business of clothing and feeding.  Any thoughtful considerations were done in the privacy of mind and never discussed such as world conditions or philosophy. 
Only when I became a parent on premises did I forge the thoughts that my concerns and battles were fought visibly and invisibly.  War itself was not the answer to man's problems and never has been.  Scars are formed and are never covered even by keloid tissue grown to resemble normalcy.  These scars carry into generations and progeny still to be born.  And we are kin forever. 
Edward is one of the few alive from that war whose memories of this day are keen.  So are mine as that child of ten.  He will be sought for this day to speak for his time on that fateful day.  My memories will haunt me because as a mother who carried life beneath my heart and gave birth to souls who were part of who I am,  I will forever hold that war is not the solution for thoughtful humans.  Life is a sacred existence of which we are part of.  As thoughtful Beings,   our behavior through life on this planet Earth,  gives us the responsibility to use our minds for solutions which give hope to all in the Universes who observe us.  We are accountable.
Pardon Me While I Cry. . .
So long to have to yearn
for times that show love
for what is ordinary.
The times where toast burned
while the children wrestled
with their cod liver oil.
Times when snow suits bulged
over sweaters that were designed
only as the outside shield.
But these tears I weep
to see young hearts leave home
forever are ragged.
The old men are sitting
in their three piece suits and
playing war games
while parents cry.
It was a lark for them,
these war games playing
king of the mountain.
And now the young leave
their homes of ordinary days
and ordinary duties.
For real guns and other weapons
of destruction so old men can
vicariously play their games
for a remembered thrill.
These young were not taught
to think of war as
real people killed for real.
They were games played
on hand devices to swallow time.
It was a surprise to them and
a heavy burden their hearts cannot shrug.
They call it post traumatic stress disorder.
So pardon me while I cry my ragged tears
still in a time of infamy.
artwork by Claudia Hallissey