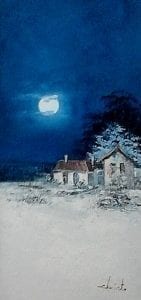 There comes that time when night falls unto itself and one says I call it a day.  It is time for the night air to wrap us in its ambience and for us to taste of its elixir.  It is when memories are called upon that feed the soul when lives were their richest in love and deeds and hearts fit the space designed for it.  This is private time for the divine within and the who I am.  Specifics are not necessary but the feel and fit are.  I wish it for you.
Inhale Deeply. . .
Inhale deeply the night so that
you will remember
the freshness that comes
with the beckoning dark. . .
And the stars
leading you to a place
of warm retreat. . .
Melancholy soul,
even the heavens
pale beneath your fatigue.
Breathe deeply
and consider my love.
It comes from a world
we hold in our hearts.
Go.
Begone, into the night where the heart rests.