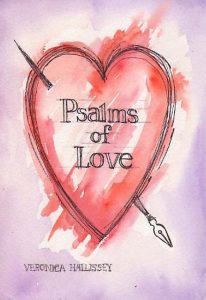 This is the day I have long  awaited.  It is the day I can say to my family and friends that the book called Psalms of Love is available on Amazon.  The Kindle is available now and within a few days,  the paper back will be available if not already.  It has been incubating for all of my life it seems but with me and my philosophy,  it happened yesterday.
It could not be without my family.  John and Lori provide a wonderful home for me  with an awesome workroom without added pressures aging cannot handle nicely. Tresy, (Joe III) has formatted and done all the fine tooth combing that publishing requires and soothed my worries about being an irritation.  And Claudia has again done her talent justice by her fine art in the midst of  life intervening.   All done while their lives continued with work and upheaval of construction, moving, changing addresses and Emma E. making her debut in the midst of the moving weekend for her parents.  With civil liberties enhanced,  chaos abated, Emma E. still came home to loving arms.
Psalms of Love readers will question the poetry according to what they hold as their philosophy or belief or their religion.  Others will simply want to know what I smoke.  I will have to say as those in the past have said,  we live our reality. The habits of our days create the world we work at.  When it is said that by their fruits you shall know them, it would be wise if we take that maxim to heart.
Because it is so.  Those who have known me, or have  been following my blog for the last seven years,  know that I speak my truth.  When I said I crashed the gates of heaven,  it is so, metaphysically speaking.  Otherwise life for me would have been impossibly difficult.
We come into the world as the twig already bent.  There are those who wish to believe that we are a clean slate, but a history we already are.  Some of us remember our history and others will say we have a vivid imagination.  All it takes is to listen to the newborn as they master the language they are born into.  They introduce a vivid history.  The book no one ever reads but refers to with the question in the vernacular,  what's it all about Alfie,  should ask the newborn as the good book says.
I truly hope that in reading this book of poetry, Psalms of Love,   sweeping across your heart will be an awakening that you too are known.  And with the journey begun, you will claim and be claimed.  To what will be your surprise.
I am grateful that we are not abandoned.  I am one of the fortunate ones knowing this.  It has been with this support I have been a contribution instead of an impediment to life.  My life drove me to study the why of man and led me to the why of who I am.  A life of independent study is not lightly chosen.  The rewards are seldom tangible but with hindsight, priceless.  No dictionary on this Earth has words to tell what it is to be known.  And to be of account.  The gift is matchless.
illustrated by
Claudia Pontarelli-Hallissey