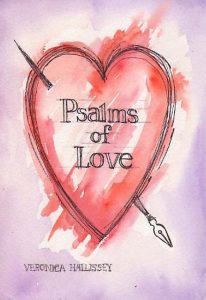 I am so pleased to be writing this post to let you know that the paper back edition of Psalms of Love is now available in the Amazon.com store.  I want to thank you for being so patient with the ambiguities of publishing and getting it altogether to match whatever the specifics were.  In this day of state of the art devices,  getting all factors working simultaneously and without conflict takes some doing.
I want to thank my family, all of them,  for allowing this sometime not very state of the art mother and grandmother the idiosyncrasies commensurate with my lack of knowledge about how things work.  It seems that a workable language should be understood but life today requires more than that.  Aahh well,  I try.  I try.  And they are good people to put with my foibles.
I am proud of this work and if I think about it for more than a minute I will make another ocean.  There is something about a creative endeavor that brings on the tears,  however much of it is a Given.  I said that I reached very high for this work,  so high and the cost was dear.  But the result has been a peace that surpasses understanding with a knowledge that has no meaning except to me.
For this time and this place,  it is done.  In another place,  another something will be demanded,  and because this was accomplished,  I may approach with trepidation,  but I will approach the task.  I have been gifted magnificently with our sons and the loves they have chosen.  There is nothing this world could give that matches all of them.
I will continue to write until I know it is time to lay down the pen.  To have a voice has been another gift that I do not take lightly.  It is a responsibility as well as deeply satisfying to be able  to state my views from a lifetime of thought and study.
I have no credentials, just accumulations of classes and books that fueled the beating of my heart.   Even two cardiac arrests and two strokes convinced no one my work was finished, least of all the cosmic element.  So  we begin again.  And again.
The daughter of one of my best friends asked to hear me read and said in a whisper,  why do I think God is talking to me in your words?  I don't aspire to her beliefs but I reached for the highest and best in my belief system.  I hope I help you to relate what is highest and best in yours.