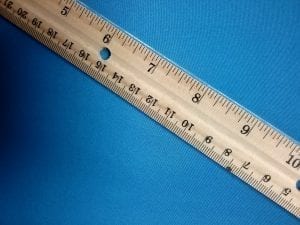 The Ruler . . .
Do not chop me up in little pieces.
I hate the sight of what I see
when I see me through your eyes.
I strive to be perfect
and in doing so find me
killing my very self.
By whose yardstick
am I measured that I
should fall so short?
An unguarded moment
can make or break a world.
Today I find mine broken.
Should I expect you to build me a new one?
Recent Journal entry April 2018. . . They have written and they ask why they fall so short when they try so hard.  And this failure levels them to the degree that all desire for advancement leaves them in the dirt and in the dirt they are stepped on.
Lost in a world of numbers and competition for place in family, in life, notably already feeling unnoticed, has put many walking out on talents enormously needed.
We come into the world unique and yet this uniqueness is not appreciated but considered undesirable differences.  Those who want to be a presence in new life as well as those who wish to find their own centers of substance, are in need and they are neither female nor male specifically but human beings essentially. 
And to be different is not appreciated.  When striving to do better to please also brings forth intelligence which has an inner glow.  And again forces more separation because one appears then better than they who originally found the difference threatening.
We wish a way to avoid curtailing a person's growth crucial to their evolution, and growth possible to those whose own sense of failure results in stepping on the heads of others, especially children.  The mother gods and father gods desire to hold their positions forever it seems lest they go down with the proverbial glub. 
Who has the courage to see their progeny outstrip them in intelligence and maturity?  Yet the purpose of life is growth and promoting the potential of everyone.  To grow and become accountable was held a priority. 
The intent has always been that emotional growth would be commensurate with chronological aging.  That when behavior was appropriate to the age, the emotions would match.  Such has not been the case. 
Adults go their graves clutching the child within to their bosoms.  Childlike awe and wonder is never out of date; childishness only appropriate under 5 years.
It is time to grow up.  Lest the devices deemed to amuse today's world become weapons of war.