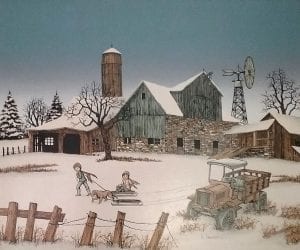 The words to each will mean something different.  They will root in the heart, in the mind and have a life of their own with you.  At some time I hope, they will mean a something that answers what is now a question.
Our Time Is Now. . .
Listen to the peoples, listen
to the peoples.
One learns what the silence
is shouting.
One learns what is not said
when words spilling forth
are not true.
One learns of love
by the strength of the arms about
that do not lie.  I know, I know
it to be a sign that cannot be hid.
And by the evenness of the voice
that sings in the air
and the throat
that does not gargle its sounds.
No matter how smooth
is learned the persuasion,
how smooth.
Come, sit with me.
It is our time and it is now.
No matter the wait
for time impends its weight
and our time is now.  Now.
{painting was a gift of
my granddaughter Jessica,
who knows her grandmother well }