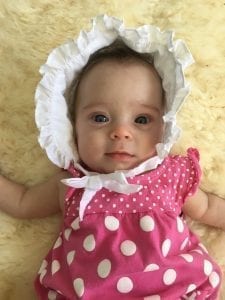 She said wait and I will get my hat on and be ready to go!  And her hat is on and she has her bag and is ready for fun!  For our little one who is the best of blends. . . like good coffee or fine wine, she is a sparkler.  Weighing in early last Thanksgiving time at one pound 12 ounces, she is holding her own bottle and her grandfather said that driver training is next!
I am fortunate to be her grandmother great though I have not seen her in this world.  I need escorts to the car in the driveway because my legs are as wobbly as Emma E.'s are yet.  Her legs will grow sturdier and mine not, to be sure.  Her life will be filled with awe, as mine continues to be.  Her complaints will loom large in irritation to restriction, as surely mine do.  Both of our heads know what we desire to accomplish, though the surroundings differ.  We both will do what we need to do for the greater good.
Thank you all for your good wishes, thoughts and prayers.  Good has no boundaries and we have been grateful to see our Emma E. responding magnificently.  Your wishes have been a salve for our hearts.
photo by Merideth,  mom
of Emma E.