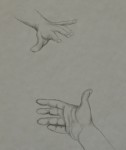 In Good Hands. . . .
I will invite you
to sit beside me
on my couch. . .
To lean into my arms
to wrest the fatigue
from a body
grown weary with age. . .
It will come to nothing,
this fatigue with aging
because the heart of you
is alive and well . . .
Alive for the world
you have prepared yourself
diligently with work, with love,
with patience. . .
How do I know this?
You invited me in to
have a time of repair of Spirit
when I needed. . .
to sup at your table
full of good talk with laughter,
at the fire with corn
in the one bowl I shared
with your sons. . .
to have sat to converse with topics
scraping the souls
of their transparency. . .
These were the times I knew
my choices were good ones
and the futures of my worlds
in good hands. . . .