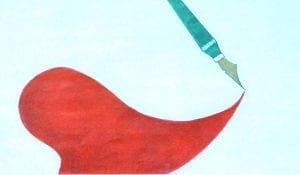 There are more than a hundred of us who share in what I call the 'jenny genes.'  I am neither boasting nor complaining because we all share faults as well as some victories,  though the latter have come with a price paid dearly.  And the faults have had a dear price also.
One of the maxims we were reared with was that if you see something that needs doing, (meaning work)  do it because you will not pass this way again.  Some ignored this, but most of my siblings lived with this.  It stopped my  heart  twice with cardiac arrest,  and nearing ninety, it prods me on not to just try like Yoda says, but do.
It is a hard way to live because it gives an excuse for others not to work because 'you like to do that' whatever the menial task is.  You are told they don't want to spoil your fun by insisting on helping, not understanding you're working toward a different horizon. Others are quick to take advantage.
My artist brother and I  in our later years bonded tightly in phone conversations nightly as sleep evaded each of us.  He took the Nazarene as his God and  I took him as Friend.  We agreed on principles, especially the one, 'hearing you will hear and not understand and seeing you will not see.'  Our conversations often were shorthand script like, you know when you look at the gulley??  answered with oh yeah, you see it too, I know. . . . I know. . . .the birdsong?
He worked his art into the night after the farm  chores were done and I, my studies and writing long after my world slept.  He sculpted  with iron and metals of sorts and used a blow torch.  We worked to show a world where all was sacred because All was connected.  And love was the solder welding The All.  It had to begin with us and the children we hoped were the best of who we were.
If We Sing To the Children
I wear these memories
as a cloak to ward off the chill.
Emotions forgotten, but like new now
ripping along my arms,
settling bumps in straight rows to my heart.
Kindred hearts,  matching my own heartbeat,
with eyes like mine and reflecting our souls.
Music in voices saying,
'and when I look at weeds beside the road. . . .
but you know,  you know. . . .'
And I do, I do and we look with eyes
that see and ears that hear the song
of the bird before his sounds have escaped his throat. . . .
and the music rumbles in our blood,
coursing through our hearts and gives life only
to those who are ready to listen.
Not many to be sure, not many,
but if we sing to the children perhaps,  just perhaps,
the earth's cacophony will one day be in harmony.
It is our heritage; from where it is we come.
From the farm country I was given
a substance that does not spoil, that does not turn sour
even in the residue of life. It is not dregs that I drink.
It is the cream rising to the top of the milk.
I needed to see a skyline with no obstruction
and with no words you laid your heart on me.
Artwork by Claudia Hallissey