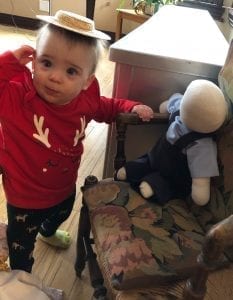 It didn't say exactly what kind was the implied accusation!  And I laughed out loud to the silence surrounding and know that the great grandfather on the other side of the veil  was harrumphing that she is another like you with no fashion sense!
And I said to Emma E. more like me, please love, more like me. . .
But coming to mind I wanted to tell Emma E. that once at a function an out of breath congressman's wife asked me how do you appear so well put together every time I see you Ronnie,  with all you have to do?  Such good taste!
And when I told that lifetime mate of mine what she said he did not believe me!!  Emma E.  I want to tell you,  this grandmother great only speaks of what is true.  And this photo of you tells me you are mine.
I can hear you say to your Grumps,  this son of mine who is your adoring grandfather,  he sees you in your unbelievable honesty.  And probably like me,  cannot believe even yet that he is the recipient of this gift that has landed squarely on his heart.
I have lamented many times my one regret is that we did not laugh enough in my lifetime,  and especially when  our boys were growing up.  Circumstances were not often kind and time was limited.  But there were many occasions where laughter would have made the lessons less difficult.
And the heavens heard me and said we will send you a package of laughter to be opened daily and her name will be Emma E.
So the fun began once the footing was secure.  You have been a good teacher of laughter and have caused your families hilarious moments.  You not only have taught tightly crafted psyches to break a little into whoops and hollers but also have opened arms to much love.
Your great, great grandfather, my father in law, paid me the highest compliment ever when  he said he  finally knew what real love was when I married into the Hallissey family and became the mother of his beloved grandsons.  Your Grumps was his first grandson and you the gift cementing and laying yardage to connections on the mend.
It takes time and though generations may lag, eventually steps are taken and again we progress.  It takes an Emma E. to come
with a full package of love and laughter.  And directions with photos, how to slurp spaghetti the proper way to enjoy it fully!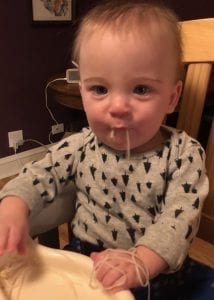 (photo by Tresy Hallissey, grandfather of Emma E.)