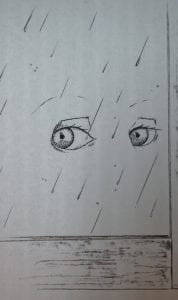 The tablet is yellowed and the typed pages, crisped with age.  The year is 1979 and I had to use my calculator to see that it is now 40 years old.  But yesterday I read in a brochure for a health magazine that one of its articles states that the brain does not know how old you are and nor does it care.
All it wants from you is stimulation to keep dementia at bay.  Well, since I have been told that I know not how to play like others but I consider it a luxury and play to do what I do when commitments no longer command, I can help out my brain.
I had just walked Princess, my German Shepherd and was doing an entry.
I felt I had mucked out my head by confronting problems but wondering from which perspective the confrontation comes.  Was it a pitying pearl or an honest one by excusing others and justifying myself?  I was 48 at the time, mother of three 20 something  sons in varying stages of crises with a part time job that had become 10 and 12 hour days.
And I had made a gargantuan decision to defy an arguing mate to leave the family business at the end of the year.  Whatever happened would and I would meet it best as possible.  With the kind of head sitting on my shoulders, a job dealing with other people's money was not good for me.  I read the following. . .
(As I walked my steps ate up the sidewalk.  I looked at the tree shaded street and thought it was not the street I had walked hundreds of times before.  In the shadows the houses were not familiar and the street lights spatial and I wondered if Princess and I were walking in another dimension.  Could we be focused elsewhere?
The legs were walking and counting off steps with familiarity, yet the brain had difficulty identifying the street segment.  It wasn't with relief that we reached the intersection with things familiar because somehow I knew we were correct in direction.  It felt truly that we had briefly catapulted elsewhere yet sweetly focused.
Or possibly a bridge I walked with a foot on either side?  Legs walking but much aware that all is not what appears to be.  And marvelously comfortable with these perceptions.)
This entry was the first I have come across with a description of how my head works in words to be read.  I may have written so previously, but these words jumped out.  Other times now come to mind and I wonder the survival and painful coping techniques of differing perspectives.
Couched Memories. . .
Memories couched in images
struggle to be freed
of the encumbrances that
stressful generations had chained in irons.
So glad for the mind eager
to struggle also, but for the knowledge
to set free the life of fear.
Reading into all chambers
the ultimate on freedom,
the mind of its own volition
listens to its own teacher.
artwork by Claudia Hallissey