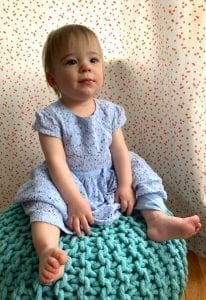 When this photo came the other day I could see a young woman of stature and maturity in answer to the question 'By whose authority?. . . whatever the problem. . . .  saying firmly that 'I am my own authority!. . . . ' because her ancestry endows her.  I give a brief synopsis. . .
Her great great grandmother
the Jenny. . .
to the question by whose authority?    'Because I said so, that's why!'
I heard it often enough.
Great Grandmother Veronica when
over 60 years old answered the Literature
Professor. . . .
Not being a member of the Church how do you know what is right to do?
Grandmother great answers. .'I have a heart and knowledge.  I know what is right.'
Grandfather a retired Teacher
of English and Drama and
Grandmother an artist and retired
Teacher of Art
In love with this ongoing surprise of a granddaughter 2 days a week after 3 sons,
enriching her life with words and art and laughing with fun always.
Both parents working to maintain a home and lives of meaning and enrichment for a new family.  Hoping also for some rest.  This is only half of the picture  that is mine to see.  This is my side of Emma E.  The maternal side I surmise and hope to meet one day is as rich because I know Emma E.'s mother.
Life always holds the sparklers and is balanced.  And if in this world plans go askew, in another world they come to fruition.  To the question at the top By Whose Authority Do You Speak?. . . Emma E. will answer with a curt,  I Am My Own Authority! And she will silence the critic.  With this Grandmother Great's blessing,  I assure you.