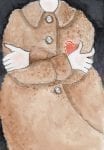 From my eyes. . . .
Father, I said, go greet your son.
And the father did and their arms
wrapped themselves about each other.
And the world was then all right.
From my eyes, from my eyes. . .
And from my heart, I hear . . .
Why did they wait so long?
Heart had given its yes when the son
was given his father's name.
At this moment,
the stars call you by name,
and the moon searches for you.
The heart has already transposed its own heart
by the songs written and sung
through the night skies.
I hear you  love, I hear you and you are singing my song.
March, 1991
artwork by Claudia Hallissey