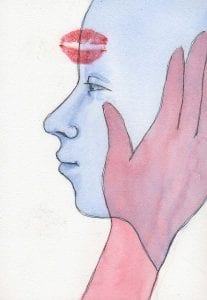 We Speak. . . 
We say goodbye with body language.
See. . . we know when
our arms are circling each other
they will not release until our hearts
press our knowledge one to the other.
And we look with watery eyes
that no longer see clear images
because they blur.  As long as we touch
we are together in this space.
But in parting we stay connected still.
I have your body form pressed into mine
and the scent of your humanity
I will always seek.
Until one day no longer will we need
to seek out each other.  For as breath whispers
beside me, I know it is you.
We will again unite in arms without form
but the embrace will be familiar.
The fit will be forever ours.
art by Claudia Hallissey