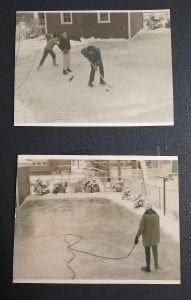 It was a hard move  for all of us leaving over a hundred acres of camp property we were living on in Connecticut to move to city life in Michigan.  From a lake with mountains and an 1800 farm house to a house with eight feet on either side was what we were looking at.  But stepping in I immediately knew it would be home to us.
Our sons bonded tightly there even as they branched out to new friends and activities,  The photos show how involved we were.  I was talked into helping with the construction of the hockey rink in the backyard.  It was started every year from that first time a week before Christmas.  That was when we could depend on weather to behave itself.  We counted on freezing daily then.
I made rules that I would only spray till 2 a.m.!   If I remember correctly,  spraying involved 20 minutes every hour for two to three days.  That was after there was a few inches of snow to push back to form a rim.  And it was a joyful night when the lights were turned on and fun began.  The guys were ready, the brothers and the younger's friends.
Hockey could be played till 9 p.m. on school nights and then they came into the basement to undo skates and then upstairs for cocoa and whatever chief cook baked.  This went on till graduation from high school.  I was not popular with neighborhood moms with young sons when bombarded with the cry of why can't we have a hockey rink?  Alas, someone needed to stand and spray and not everyone loved winter as we did.
Some not as agile on skates but all loved chasing pucks with sticks.  We had our share of broken windows in the house and garage which had to be repaired quickly.  They became adept soon to hold the shots low and also at repairing the windows.
The younger, son John, eventually settled in California to teach when I received a call one afternoon from the class he was teaching.  He said his class did not believe the hockey rink in his backyard. Would I answer their questions?  The children were unbelieving.  I explained how we did it and what was done to maintain.  You sprayed with a hose they asked?  Yes, I said and not after 2 a.m.!
After much time with questions of how cold did it get, how long and how many played and the kinds of things kids wonder about especially the strange mother who would volunteer to do this!  They thanked me and made me wonder how many were still unconvinced.
Over a half century later, I consider myself a woman of great wealth in charge of this memory bank.