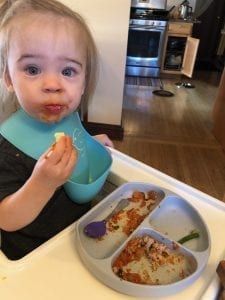 Grampa says . .  Grandma created first homemade meatballs in eggplant/ tomato sauce over polenta with a salad of romaine, cherry tomatoes and kohlrabi with olive oil and balsamic. . .
and then crafts with grandma Claudia, the talented artist. . . .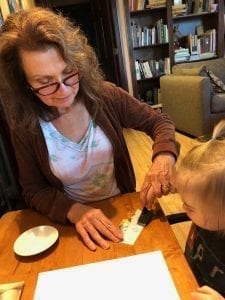 And then a story to close the day. . . .
It is a simple story but such a big hurdle for mankind . . . that is
to treat new life with an act of devotion to prepare for the challenges
we face in preparation of our potential.
Where we are now, is the place for us to start.  So we can then speak with
truth in our search for brotherhood.  Not a pipe dream but a fact.
Not just a wish but a promise if we use what is ours within us to
help make perfect peace on earth in our time.
A lot to ask when life has not been exactly fair with us?  Yes, but we
have help if we seek it out.  It takes courage to even ask I know.
But that too is within us.  To find we are courageous is a welcome
surprise. Sometimes invisible arms hold us up.