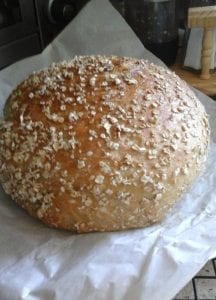 The Perfect Kitchen. . . cook's heaven. . .
(where the bread knows the feel of my hands. .)  I have been in  cook's heaven and I need to get my fill of it.   Son John and in law daughter Lori have given me a taste of that paradisal place every cook knows exists but never to have; a kitchen with enough space to make Thanksgiving dinner all the time and a place to put every washed plate and pan afterwards. 
It has been my contention that people shy from preparing food simply because of the cleanup.  Enthusiasm will have us begin and put together exciting dishes but to think of clean up is dismaying.  It will undo every good intention when picturing  putting everything back.   
When I was pulled into kitchen duty on the Farm because of my inability to withstand the sun and heat,  it put my mother in the field to help and me in her kitchen to feed the farm workers.  My quiet brother gave me an encyclopedic cookbook and at 12 years my passion for cooking erupted.  My heavy as lead cakes were loved by my brothers and my quick breakfast scones were indeed my sister's favorites. 
And as I grew in experience with every aspect, even the cleaning up, I still loved the art  requiring passion.  Experimenting was crucial to learning and fortunately there were appetites without worries about weight that only came with city life, not farmers.
I learned to love the kneading of breads and eventually the no knead bread of my dotage.  And the English muffin bread  and the baking of dog biscuits that dogs crave by their waving  tails. 
I found a  love of Lorna Doone cookies  followed by my own version of pretend Doones that truthfully I love more.  Because I can make them myself when I crave them and it takes little time and 4 ingredients. 
Right now the bread making, the spice cookies I call windmills without the molds, and my pretend Doones have me happy with my specialties.  But satisfied  because the kitchen is a dream for me with a place for everything. 
Lori's vision planned the kitchen and John's love of craftmanship with his hands, made it.  I never thought talent for feeding who I loved to be taken to such a height by a well planned kitchen.  I wonder how many meals are thrown together by our lack of prioritizing what should be prime for all families, a solidifying and celebration of times together every day. 
The last time I saw my mother she apologized for not knowing how to show love.  Being an orphan, she said no one ever taught her how.   Thoughtfully she did every day with putting  love into every meal she cooked.  Her kitchens were not state of the art, but the results in the kitchen were.    I remember.
My kitchen times are love conscious and I wish those remembered.