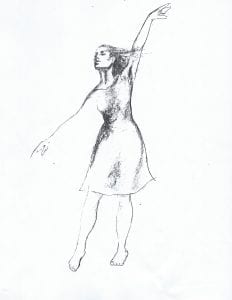 On May 14, 2021, I posted Time's Gleanings.  It  is a collection of paradigms as a brief respite in diets of heavy lessons.  My last maxim of that post reads like this. . .
'Like a dancer learning the discipline of a new score,  we have rehearsed minute by minute to come to this place,  this place of understanding where we are now.'
I received an email from Merideth, mother of the sisters saying . . . Emma E. told me today that she was a dancer before she was a baby.  Perhaps that is why she stands on the tip of her toes so often.  It is a habit she learned before she even arrived. . . .
I told Merideth that I am glad our girl babies have her as a mother and I am glad Mer does what she does.  Emma E. will start her formal schooling soon.  The altogether most important elements started when she chose her parents.  Safe is such a simple word and as many letters as fear.  To be able to freely connect her tip toeing as a dancer before being born as a baby told us how high she will reach.
Children come from a sacred some place to grow and teach.  When they ask that first 'why?' we should kneel and embrace the child and search their minds for what they remember.  And we should talk to each other freely about earliest memories. 
Memories are a good foundation to support growth and integrate new sustainable knowledge.  In this wild and wooly forest I comfort myself that memories can be our mother tree like that of the forest gods. . .with space to embrace us all.
Little Ballerina . . . 
Dance for me, little girl
Dance your dance and show the gods 
why you dance.
In the garden I see you,
toes dug into the earth, head tilted
to catch the glint of the sun filtering
through the leaves.
You nod in assent to breezes
whispering your name.
Your lips move in intonation
of the om which separates you,
momentarily.
You pirouette perfectly, swayed by forces
caressing you to homage of all who you are.
I long to kneel before the image of you.
At one with your own music,
when your arms grace sweepingly
in the silent moment and you take
all that is yours and
pray the garden into a sanctuary.
artwork by Claudia Hallissey