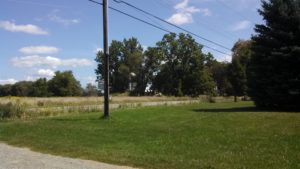 There comes to mind that time warp where events leave their linear places and congregate in the place where we know that thunderous motions occur with the simplest actions.  Or even with no action.  Like the times my brother Stanley and I discussed what he saw along the road but knew immediately I knew the song.  And he just  resorted to, but you know, you know. . .
It was simply a matter of realizing we shared a history, with a weight to language which we worshiped.  We knew that the words we used the other used also and respected.  We were not loose with words but used them with sacred dispensation. 
It was a relationship we shared with his wife also.  And both of them were an important part of these particular visits we had and where the poem above was born.  It holds great meaning for me because of the tender feelings we shared.  It made the visits to the Farm a recreation of who we were and continued to be. 
That the children shared in this family in their own ways I was not fully aware until long after they became adult.  In talking about who we as their parents wanted as guardians in case of our demise (and often argued) while they needed family, our eldest asked why did we not ask them? 
I said because we wanted to agree on the ones we asked.  And he continued, 'well you should have asked because we had already decided that Uncle Stan was the one we would go to.'  When did you decide all this I asked.  'Oh long ago, he said.  We already knew who we wanted.'

It was all decided within the sanctity of that relationship.  And I never asked, but probably they had already researched the Court and who was the approachable judge.  I just never asked.
If We Sing To The Children. . .
I wear these memories
as a cloak to ward off the chill.
Emotions forgotten, but like new now
ripping along my arms,
settling bumps in straight rows
to my heart.
Kindred hearts, matching
my own heartbeat, 
with eyes like mine and
reflecting our souls.
Music in voices saying,
'and when I look at weeds beside the road. . . .
but you know,  you know. . . .'
And I do, I do and we look with eyes
that see and ears that hear the song
of the bird before his sounds
have escaped his throat. . . .
and the music rumbles in our blood,
coursing through our hearts
and gives life only
to those who are ready to listen.
Not many to be sure, not many,
but if we sing to the children
perhaps,  just perhaps, 
the earth's cacophony
will one day be in harmony.
It is our heritage;
from where it is we come.
From the farm country I was given
a substance that does not spoil,
that does not turn sour
even in the residue of life.
It is not dregs that I drink.
It is the cream rising to the top of the milk.
I needed to see a skyline
with no obstruction and with no words
you laid your hearts on me.