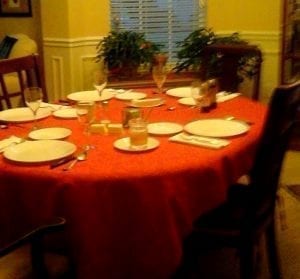 Come To My Table
Come to my table
and sit awhile
and I will tell you tales
of years gone by,
attended by loves and those
who held magic in their hands.
We have supped
and laughed and cried some,
but mostly told the tales
that love spun out of gold.
It was a rich time;
not the coin of the day
but the values in the hearts
of those who dined.
It was magic
that threaded us together
through the years to find us
all at the same place, entwined.
But the love and the magic
may have been one and the same.
Do you think?
(March 26, 2013written)
Family and family of friends. . . To all who have sat at my table all the years and have made life so rich for me.  I   am blessed beyond words for what you have added to my life.  And this poem is a thank you.  You are the love and the magic and it is one and the same.  Do you now know that?    veronica