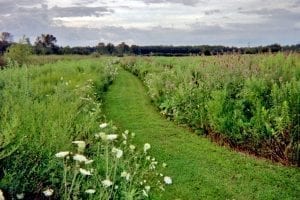 I wrote in September '87 journal that  I glanced at Ernie and Frank's (I think) cartoon on my desk.  Descartes says, I think therefore I am.  And the gent disappears after being told this and the logical thought is, if I don't think, I am not.  And like tea, I steep, how can one live without thought? 
I recall  once a  brief  silence in my head like an empty wine cask.  Do people live like this was my question.  What do they fill the silences with and I don't think I want to know.
Coming to mind immediately when writing this was the reason the kitchen fan was not working. ) ( My head works like this.  Because when the new addition was insulated, they inadvertently covered the vent.)And when I read this I thought of my sister's complaint that it takes a whole page for me to say walk to the corner. (4 words)
I say but what I wish to share is what I see when I walk to the corner.  You understand I thought everyone was like me or I was like everyone else. When my world crashed, Dr. Cassidy, my first psychiatrist, was so wise to ask me what I saw when I walked down Michigan avenue.  And when I closed my eyes and told him, he whistled through his teeth and said you understand that others do not see this.  And when I said nothing, in dismay he said, my God, you don't. 
How you see is how you talk. And when you listen you will hear what you need to hear and  how to respond.  Some will hear the antiquated language and some the vernacular of the times.  And the wise will take to heart to talk or be still.
Coming to mind will be memories entwined which will take courage to unwind.  I had received a photo of my sister holding her new great granddaughter and I told her that in her 80's she was as pretty as she was as a girl.  There was a long silence on the phone.  But you were the smart one she said.  I began to shake and knew to hang up the phone and say nothing.
What I heard was familiar and it was not love.     
If We Sing To the Children  . . .
 I wear these memories
as a cloak to ward off the chill.
Emotions forgotten, but like new now
ripping along my arms,
settling bumps in straight rows
to my heart.

Kindred hearts, matching
my own heartbeat,
with eyes like mine and
reflecting our souls.
Music in voices saying,
'and when I look at weeds beside the road. . . .
but you know,  you know. . . .'
And I do, I do and we look with eyes
that see and ears that hear the song
of the bird before his sounds
have escaped his throat. . . .
and the music rumbles in our blood,
coursing through our hearts
and gives life only
to those who are ready to listen.
Not many to be sure, not many,
but if we sing to the children
perhaps,  just perhaps,
the earth's cacophony
will one day be in harmony.
It is our heritage;
from where it is we come.
From the farm country I was given
a substance that does not spoil,
that does not turn sour
even in the residue of life.
It is not dregs that I drink.
It is the cream rising to the top of the milk.
I needed to see a skyline
with no obstruction and with no words
you laid your hearts on me.
photo by Kathy Qualiana