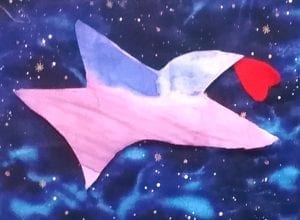 This is a very difficult post for me to write.   Since I have been blogging, I have shared many personal thoughts. What has caused me pain is fully factual and I encourage my readers to Google it.  I have no credentials after my name but I am entering the last decade of my hundred years saying this has personal  feelings.  But last week I read an article that made me whiplash.  It was the following. . .
Emergency room visits for "suicidal ideation" (or suicidal thoughts) among 5- to 19-year-olds increased 59% from 2016 to 2021, and hospitalizations rose 57% from fall 2019 to the fall of 2020, according to the study published today by the American Academy of Pediatrics.
What made me painfully swivel was the age of five years that children were having thoughts of suicide.  5 years?  I have concluded that this has been my  hardest life's journey.  But at 5 years I was lying on the grass and moving clouds mentally into positions I needed them.

I have almost three quarters of a century of journal entries.  And yes, some of them are blissfully boring which is a merciful moment; never thinking I was different but an easy mark for all those who were inclined to constructively (?) criticize.  I was quite old before coming to mind the thought that everyone liked the way I worked but not who I am.  Confronting the accuser after being called gullible, I asked if that was the same as trusting.  He blanched.
I was born the sixth child (daughter) after 5 sons.  Difficult healthwise  from the beginning and spending almost 2 years from 10-12 years of age in the Sanatorium because of a spinal infection. (before penicillin) 
I loved my brothers and they, me.  There were 2 more siblings, brother and sister after me.  My brothers watched me carefully.  We all carried shares of work because we were so many.  We were not inclined to affection so no memory of hugs in my bank.
I thought I was like everyone else, though my sister said I was not lovable.  My Coast Card Admiral brother said I was the only one who thought about life's  meaning.  My oldest Navy Commander brother said he never gave thought to the things I wrote about.  The brother closest in age said he need not explain himself because I knew his thoughts; we were alike.  The quiet brother knew my journey and offered space when I needed it.  I wept. 
I talk long and hard about our jenny genes.  I am aware of nieces and nephews and grands who have had hard times and early departures.  Yet also the triumphs that depicted enormous courage with passages through rough terrain unspeakable. 
But with the article came the knowledge that what I have learned I must speak.  Many of us with the jenny genes, meaning having my mother as mother or grandparent, came endurance for some and inability to stay for others.  Too many altars to cry against and too many arguments with the heavens. 
I came with a foot dragging from my last world and an open head.  A tsunami let loose with an ocean crashing in my  head at 35  had me shouting close up my head.  Almost 60 years ago and I still remember that my only wish was to sleep forever. 
It has not been a walk in the park.  Regrets?  A few.  But mostly gratitude  for what was learned and what was given to me in the sons of my heart.  I don't know where I could have been given such gifts.  Evolution has stagnated and wars continue to be fought for no reason at all.   Earth's knowledge graces many avenues needing clarification. 
I have knowledge of things taught in ways not common.  Children born now feel they have failed somehow.  They have  not but they must be embraced because of who they are. They are open headed and open heartwise and they are cause for celebration.  But they need adults who have survived physical life not in the secluded arches of churches, monasteries, convents and forests but in the secular world where the gifts and talents that rust and moth do not destroy are practiced.  And five year olds  should be loved and excited to be born in such a beautiful world and we are grateful that they choose us to be their parents.  Because we choose them.
Where spiritual life can be enhanced and a living made in the marketplace.  So now we begin.