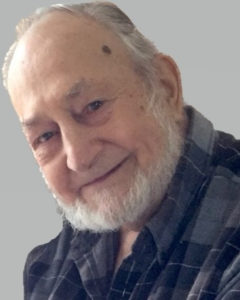 Theodore D. Socha
August 23, 1925 — July 19, 2023
Theodore D. Socha, a longtime Royalton resident, passed away on July 19 at the age of 97.  He was predeceased by his beloved wife of 68 years Harriet K. (Muck) Socha. For many years Ted and Harriet operated a family-run apple orchard, sharing their harvest with customers from throughout western New York, and living his credo of "staying close to the land." Ted was a 78 year member of the International Brotherhood of Electrical Workers, beginning his career as a lineman in the 1940s, installing telephone poles with teams of horses. He was an avid reader, and a man with a strong work ethic — and opinions.
My brother Ted left our world Wednesday morning.  We were eight standing, my siblings and I, and they leave me the last standing, to turn off the lights when I call it a day.
The quiet brother, the one I remember him saying many times over, Ma,  she's crying again, read me easily all my days with few words exchanging.  He lost his hearing early on  but still he knew me and my thinking.
We walked the fields during one of my visits and with nothing said out loud about the shaky time I was in, he offered his renovated rooms whenever I needed.  To me it was 'money in the bank' while I sorted through some rough emotional pillage.
Cosmic life and belief systems test us in ways no longer applicable in  changing worlds but until we articulate and prove more authentic ways, we will continue to wonder our viable presence where we are with as many obstacles as we endure.
I have scribed in journals, that the gods we believe in have no memory of life I contend and no knowledge, none, of gender expectation of role models for the untaught.  The cries of crisis have no bedding in their brains.
Six million cries were not loud enough clinging to each other being marched to the ovens.  Not hard then to understand the addiction of physical life when the only accountability is a pat on the head and the words go forth and sin no more.    Forgive them Father for they know not. . . .
I do not know what to call my condition of heart. I know orphan because parents have left.  I never expected as the sickest one in the family ever to be the last standing.  Yet I will remember to turn out the lights when I leave the room.  I will check the children mentally and make certain the stove is turned off and should there be a killing frost again, I will leave the water running barely so the pipes do not freeze.
We were taught well to care for our land.  We also were given minds with memories from where we have come.  We take who we are with us and know because  we hold life sacred that we will be prepared for what awaits.  But right now,  I miss my brothers.  They were special and they loved me.   They knew I was serious about life and they tried to protect me.  I want them to know how much they have meant to me.   I just don't know who I am without my brothers because I have had them for almost a hundred years.    my god, for almost a hundred years. . .   vrh