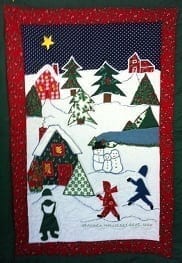 When I work with the quilted wall hangings,  I find refreshment pouring intome.  And as the hand glances on the quilting, I hope that the new owners of these quilts will find that they refresh them also; bringing forth old memories and making new ones for the young.   They ask to be touched and I hope the ones who are viewing feel that they can do this.  The quilts seem to come alive beneath the fingers.
I find my greatest peace when working with the winter scenes from the 18th and 19th centuries.  There is no line drawn for me and the scenes blend into each other.  And I hope my heart continues to beat until the last is finished. They are quilts with a soft touch to them.  They all measure near the 18-20″ width and the 25-28″ length.  The Christmas Trees quilt is 35″ x37″.   It is thelargest in this selection.   It will hang nicely over a fireplace or a far wall.  The smaller ones which I call Kiss the Morning (I have made 5 of them,  slightly different)are for me a morning greeting.  The strut of the young one is enough to make everyone get up and march.   How can anything be so grim when the sun comes up somewhere in the world every morning?  Indeed the sun wins the battle over night.  Every day.  The Christmas scenes for many of us awaken memories.  It was a time of innocence and faith in everything, from the babe in the manger to Santa coming down the chimney.
What I try to portray when doing the wall quilts is an understanding of a time no doubt that does not exist in reality, but in illusion, in dreams and perhaps another world or dimension.   Does it matter?  If it is a dream, it happened somewhere for it to be so real to me.   The word imagination comes from the root word image.   So there is a time in some dimension for this image to have stayed with me for so long.  I think this is why the quilted hangings demand to be touched.   I have watched people look at them and before they stop themselves, their hands reach out.  I know that they too have this scene in their memory bank.   I hope I have captured this for them.  In this day of hi- tech medicine we still have little knowledge of Soul and Spirit and so little of who we are.
I am pleased to say that Kiss The Moon will be available because it is at the printers and orders can be taken.   The Last Bird Sings is in stock so the companion books can be ordered at the same time.   My views and explanations are my own after a life of independent study.   Another world, another time will open me to other views.   But come with me on this trial run.  It has been an interesting  journey.
[product_category category="wall-quilt" per_page="12″ columns="1″ orderby="date" order="desc"]