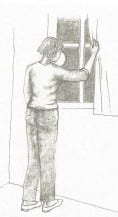 My warm breath makes a circle of clear space
on the frosted pane.  I gaze at empty horizons
willing your outline to appear
to give this day extra measure.
You move into view with water pails swinging,
from shoulders whose strength I know by heart,
with strides cleanly cutting
the knee high snow, effortlessly.
I move within the circle and my warm world,
eagerly awaiting your shout and stamp of feet
on the threshold, feeling already
your cold face along the line of my throat.
The woolen nap of your winter shirt
is rougher even than my hands.
It's been too long you say since you left.
And I laugh.  Hardly time enough to clean the barn
for barely were you gone an hour.
And here already.  My day has taken shape.
                                   *****
The stamp of feet, the key turns
and the door clicks open.
My hands press the smooth fabric of your
well tailored coat and do not catch.
I take the leather briefcase from your hands
and lift my head for the homecoming.
It's been so long that you are gone, I say, and you laugh.
I've only been gone a week this time, you say.
I turn again to the window to find it frosted over.
And know that worlds have died
and been reborn in less time.
And today, another one.