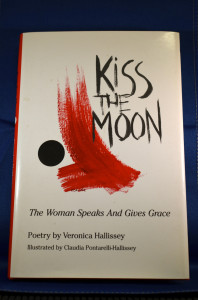 This week there will be a drawing for the book of poetry called Kiss The Moon.   The number picked will be at random and I will announce the winner on Friday.   So when you comment on whatever post you like or have thoughts about,   I will be notified and I will put names in a container and the name will be drawn.
This is the first time I have done this and Maria at fullmoonfiberarts.com has been my encouragement.  I know there are many of you who like my poetry and perhaps you will be the one to be drawn this week.   The names through Thursday night will be eligible.
I am looking forward to the response from my readers.   I have enjoyed your e mails but you must go to https://fromanupperfloor.com to register your name and comments.   You will have four (4) days to do this.   The second printing cover of my book has slightly different printing, otherwise the art work is the same.   And most of the poetry on my blog is in the book.  Good luck to you.