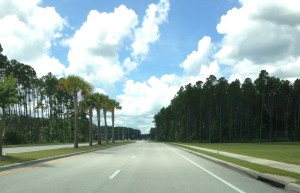 To those of you who have been following my blog and wondering when or if I would  return,
we are now established in our new surroundings in St. Johns, Florida.   Driving into the southern parts of these United States from West Virginia down,   I could only find one word to describe my beloved evergreens in profusion.  Wow! oh wow!   Wow!   I did not know that evergreens were indigenous to the area but oh my,  the highways are picture perfect in their upkeep with the evergreens marching in line as if in parade.   The Skyline Drive was magnificent along with the Blue Ridge drive once fog lifted.  We had a long time family friend  drive us so we enjoyed the trip as much as two aging passengers could.   And also traveling with us was our aging golden retriever.   He did better than the three of us.
It has taken a bit of time to set up all electronic equipment but we are good to go.   I hope to get on a regular schedule again soon and share with you what it is I have learned on this greatest of all journeys,  the one we call our life.   Our greatest contribution is what we can bring to every day, and if need be,  dipping even deeper into the well of who we are.   We know we are better than our oftentimes childish behavior and we only have to prove it.  Now I embark on the last quarter mile home and I wish it to be rich in those things of Spirit.  I hope I can make your days a reflection of only my best ones.   Join me.