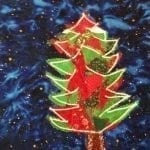 What I try to portray when doing wall quilts is an understanding of a time that may not exist in our time frame but does exist in memory.  It may be of our memory locked in our memory vault or belong to our ancestors.  It may not matter at all.  But when the memory comes alive in us and changes us either to better ourselves and our world or remind us of something else that once was significant,  it indeed then becomes important.  It happened somewhere to be lodged in us.   That is good enough for me.
These new quilts will be mini quilts, able to be framed.   The tree that I am working on is of vintage Christmas prints.   When I unpacked this quilt after our move here, that I had been working on and saw the  night sky blue background,  my heart sighed AAAhhhhhh.  This is the Heaven I see.
The measurements of this quilt are slightly larger than the mini quilts which will be 5″ by 7″  or 8″ by 10″.   This one is 15″by 17″.   If you are interested, contact me here.   It is not too early for me to start my Christmas quilts.   Christmas is my state of mind.   This quilt is $38.00 plus $5.00 shipping.