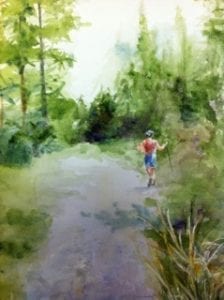 Oftentimes as we age,  we wonder, and some of us are prone to wonder a lot, how to have done things differently.  And  considering what we knew at the time,  what situations presented,  the conclusions reached are that we did the best we could.  We gave it our best shot considering.   I understand that on the way to sainthood many options are closed.  Tell yourself that.  And remembering again as a best friend said,  introducing one small if would have changed the entire picture.  So be kind to yourself with no more 'should haves.'  There will be those who will be happy to keep on belting long after one's demise.  Let us not take away that last pleasure.
As The Script Was Being Written. . .
If, as you say, beloved,
that none of it is true,
that what I have built with my life
is a sieve, never to hold water,
then this I say. . .
From where comes
this courage, I ask,
to have sublimely taken on
the heavens and them to task
when my arms, as the
theater marquee shouted. . .
are too short to box with God?
Except of course, you see, I say,
it took a very long walk
to get to this place
where I see how it worked.
I stalled the process
several times
while I gained my footing
to reconcile beliefs. . .
to cut corners so that my people
could hold on
just another minute. . .
But it was what I could do,
only what I could do,
for the ascent was narrow
and steep and the rocks
bit the soles of my feet
and I found somehow
I had courage and life
was lived. . .
even as the script was being written.
Painting by Claudia Hallissey